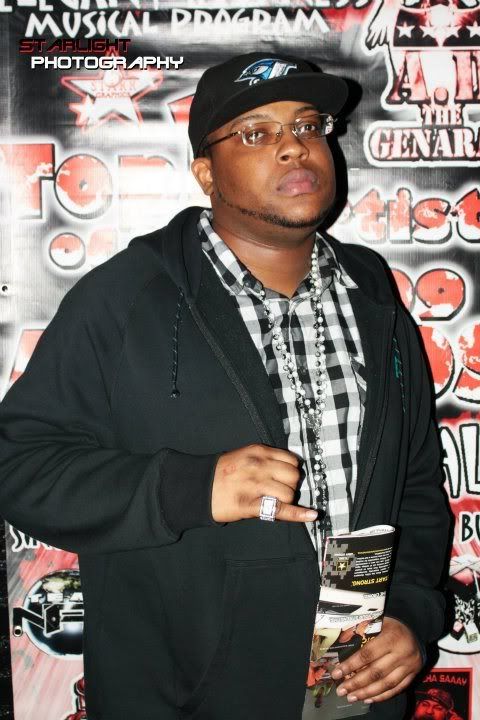 Dec 21, 2011 Trigga brought some major heat to Elegant Hoodness. His beats played track after track as the audience, which was filled with unsigned hungry artists cheered on. There was some competition in the building so it was definitely a battle of some of Hip Hop's soon to be super producers. But only one could Reign Supreme and Trigga did. He is now nominated for Emerging Producer at The E.H.M.P 2013 Awards and has won loads of exposure. This is a producer that is well on his way. When they ask, tell them A.D. The General told you so.
A.D. THE GENERAL: Congratulations on your 1st place win at The Elegant Hoodness Musical Program Beat Battle edition Dec 21 in NY. How did u feel were certain you were the winner? And did you enjoy the Elegant Hoodness and would recommend other producers and artists to get down?
TRIGGA: Thanks alot! It definitely was a big win for me considering it was my first beat battle ever. To be honest I felt I did enough to win but it was a close one. I really enjoyed myself, the performances was on point the atmosphere was great. I definitely think producers/artists should check out The Elegant Hoodness Musical Program it's a great avenue to get heard and for promotion.
A.D.THE GENERAL: You are currently being mentored by Trak Dealaz CEO him self "Buck 50″ how did that situation come to play?
TRIGGA: A lil bit of networking, grind and luck! I've followed the Trak Dealaz movement for a while and when the opportunity came along to work with the infamous Buck 50, I didn't let it slip through my fingers. I look up to him and it's an honor to work with him.
A.D. THE GENERAL: How do you feel your production differs from the average hiphop/rap producer? And would consider your self a producer or a beat maker?
TRIGGA: My production is very versatile yet has the "now" factor. I have an unique sound that I call the"Tranz4mation" but I also have the ability to mimic our favorite super producers out there like the Kanye's, the Swizz's and the Dr. Dre's. I would have to consider myself both a producer and beat maker. Some producers get offended when you call them a beat maker not me. Even though its nothing like a great production, having you favorite rapper destroy one of your beats is priceless!
A.D. THE GENERAL: You are a producer/engineer? How important is it for a producer to be able to control the mixing of the records?
TRIGGA: Yes I am, but to be honest controlling the mix isn't that important to me as it may be to others. If I have a great engineer that knows what he/she is doing, it gives me the opportunity to solely focus on the production "Dirty ears create dirty music".
A.D.THE GENERAL: Where do you see yourself a year from now?
TRIGGA: On top of the world! lol I definitely see myself in a better light, doing shows, producing for a lot of the great artists out there and over all being a better person; Which would make me a better producer in the long run!
A.D. THE GENERAL: Any thank you and or shouts outs?
TRIGGA: Thanks To: A.D The General and the whole Elegant Hoodness movement for showing me love. Buck 50 for working with me,  giving me the oppurtunity to show and prove. Shout Outs:  Buck 50, Boogz Banga, A.D The General, My Fans and The Team Bomb Squad and Trak Dealaz supporters.
WRITEN BY A.D. THE GENERAL
COURTESY OF THE ELEGANT HOODNESS MUSICAL PROGRAM 2012